Electronics
&

Computer Recycling
Intrepid IT offers a diverse range of environmentally friendly electronics and computer recycling solutions, that are regulatory compliant and cost-effective.

We understand the challenges that small businesses face when discarding obsolete electronic devices in a manner that is environmentally responsible as well as economically feasible. Intrepid IT can provide your company with an actionable plan for cost effective, compliant, electronic recycling and material recovery. We work with businesses of all sizes to develop electronic recycling solutions that preserve our natural resources while maximizing your recyclable value. Intrepid IT is an approved recycler and de-installer, fully compliant with all IT recycling regulatory requirements.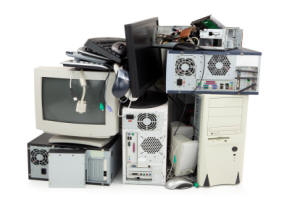 Intrepid IT's diverse range of recycling services includes mail-in, trade-in and pick-up recycling solutions. Whether your company has the need to recycle computers, laptops, monitors, mobile devices, batteries, or other unique electronics related products, we can design electronic recycling program to meet your needs – saving your small business time and money, while preserving vital natural resources.
When you call on Intrepid IT to handle your electronic recycling you can rest assured that your electronic items will be properly disposed of and appropriately recycled – in the easiest and most cost effective manner possible for your small business.
We provide all necessary compliance forms and recycling certificates to document your compliance with DEC rules and other environmental regulations – and make all certificates available for verification.
Let Intrepid IT design a custom program to recycle your computers, monitors and other electronics in a regulatory compliant manner that protects your company's bottom line while preserving the environment.
Call Intrepid IT to discuss your electronics and computer hardware recycling needs:

586.468.7374
IT Company – Macomb: Electronics & Computer Recycling