Intrepid IT Managed Services reduce the cost and complexity of managing your small business's IT systems & resources– at a flat, low monthly price you can afford.

When you hand over your IT to Intrepid, you can focus on your business by letting us manage you systems at a secure and monitored offsite data center for a low, flat-rate monthly cost. The IT professionals at Intrepid IT will take care of your day-to-day IT tasks, including: patching, troubleshooting, monitoring, maintaining, upgrades, backups, and more.
Intrepid IT managed services for your computer systems, servers and networks include 24 / 7 monitoring. This enables us to identify any potential problems and remedy them before they cause downtime for your business.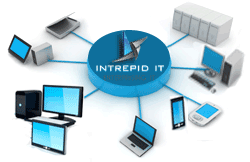 Our comprehensive managed services plans are guaranteed to reduce the cost and complexity of supporting your small business's hardware, software, applications, and network environments – and maximize uptime through proactive IT management.
Even if your company already has an in-house IT Administrator, Intrepid's managed services can free up your internal IT staff's time – allowing them to focus on core business initiatives rather than constantly diverting them to maintenance & repair issues.
Offloading (outsourcing) your routine yet vital IT infrastructure duties to Intrepid IT's managed services team can reduce your small business's IT operational costs while at the same time providing higher levels of IT service and support.
Complete IT Managed Services:
Network Infrastructure
Network Security
Hardware & Software
24 / 7  Monitoring
Troubleshooting & Patching
Maintenance & Upgrades
Benefits of IT Managed Services:
Affordability – low monthly rate
Accountability – 24 / 7 monitoring
Flexibility – completely customizable
Reliability – 99.9% System up-time
Scalability – add services as needed
Security – data protection & recovery
Intrepid IT Managed Services Offer:
Customized Hardware Configuration
Offsite, Remote & Cloud Solutions
99.9% Network Uptime Guarantee
24/7 Live Level-3 Technical Support
Data Protection & Disaster Recovery
Lower Flat Rate, Monthly IT Costs
Call Intrepid IT to discuss your small business Managed Services needs:

586.468.7374
IT Company – Macomb County: Managed Services Provider